Welcome to the first episode of Weekly TV Roundup!
Feel free to grab a button and sit down on our virtual couch! Tune in every

Tuesday

morning for the prior weeks' shows (

Tuesday

-Mo

nday

)
Wanna participate? Let's get started!
2. Link up using our button, or link back to us in your post
3. Check out other's posts and leave a comment. Who doesn't love comments?!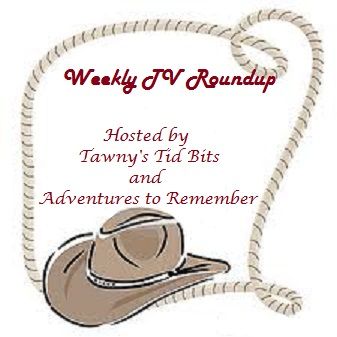 Dexter
Season 8 premiere - A Beautiful Day
The "recap" of seasons 1-7 that played before the episode started was amazing. I loved hearing all of the actors' points of view of the show. I am not looking forward to this series ending.
6 months have passed since Deb killed Captain LaGuerta. Everyone is present for a dedication of a bench to her except for Deb, who is "out of town," which is apparently code for getting high and hooking up with a guy in a hotel...at least that's what we are led to believe until Dexter goes to her house and finds an overflowing mailbox, and then heads to her supposed new employer, who hasn't heard from her in weeks. He tracks her down in Fort Lauderdale and she wants nothing to do with him.
Miami Metro has a visitor - a neuropsychologist who is there to help with a new case. She suspects a serial killer is involved in a recent murder. She gets 1-on-1 with Dexter and starts asking him about the Bay Harbor Butcher. At this point, I'm already thinking she is up to no good for Dexter's well-being. She's eyeing him in the meeting every time she talks about psychopaths and serial killers.
It wouldn't be a season premiere without Dexter murdering someone. He comes through just before the episode is over by stabbing Deb's "boy toy" who she has been supposed to bring in to her employer. Deb tells him to leave and Dexter returns to his car to find the back passenger door open and Harrison MIA. Leave it to Dexter to run and pick up his kid with blood all over his hands.
The episode ends with Dr. Vogel approaching Dexter as he sits on LaGuerta's bench. She hands over some child-like drawings with Dexter's name on them. He runs up and grabs her and slams her into a wall. She tells him "you can't kill me." He asks "why not?" and she responds..."I don't fit Harry's code."
What!!!!!!!!!!!!!!!!!!!!!!
Did Harry know this woman? Did he tell her about Dexter? Is she going to kill him in the end? Or is Deb?
All I know is Deb is headed in a straight up downward spiral. If she doesn't kill herself intentionally, something bad is going to happen. I'm thinking overdose, or getting mixed up in the wrong kind of business and getting herself killed.
And what about the season preview?! ajakdjfoaindnfd W-O-W
Until next time!