In the past two days I have started following quite a few blogs. I am really trying to get out there and meet people in "blogville" since I want this school assignment turned personal project to be a big deal. I was reading Kadi's latest post on her blog
Sheer Serendipity
and I am so glad I did because she shared a link-up today with
Laura
,
Kate
and
Kara
titled Dogs Are Babies Too! I
have to
participate in this.
Below is the link if you want to join in on the fun and share about your fur baby. You don't have to have a dog, any pet will work.
I'm slightly embarrassed to admit but I think I take the cake when it comes to a babied pooch
.
The guidelines according to Laura are:
"Dogs are Babies Too: Tell me a story when you shamelessly babied your
canine at great expense and/or effort." Think: overpriced doggie clothes,
carrying a tired pup home during a walk, taking a sick day to be with
him/her, that sort of thing."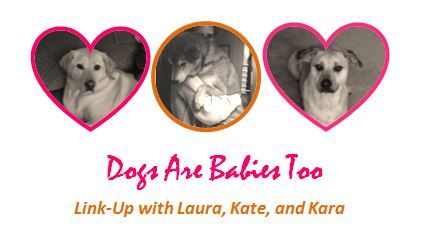 I do not have just one story to share because life with my dog has been one big adventure and is comprised of a gazillion stories. Buster is the love of my life. My little furbaby just turned 2 years old a couple of weeks ago, and yes, he received birthday presents. A week before his birthday he also received a Valentine present. On Christmas, he had as many presents to open as my mom, my brother, and I did. To put it in simple terms, he is
spoiled rotten
! When people, especially my students, ask if I have children, my response is "yes, and he is covered in fur." I often look at Buster and wonder what he really is because to me, he is not a dog, he is a person covered in fur that walks around on four legs.
He is my doggy soul mate
.
First day with Buster and his car ride home!
I sometimes try to remember what life was like before Buster and it's hard to imagine. What did I spend my time doing? I literally cannot recall. Where did my money go? I spent most of it on me, but now most of it goes to his expenses such as food, toys, and doggy daycare.
Report card from doggy daycare
YES, I take him to doggy daycare at a wonderful place called The Dog Resort. He gets to play with his friends which is much better for him and me. Today, he was left at home during the time between my brother leaving for work and me returning home from my internship. Somehow, his foot tall, 9.5 lb self managed to get a loaf of bread off the kitchen counter and ripped the bag and bread to shreds. Buster has major separation anxiety since the first day we brought him home and cries even when he is left alone in the house for less than two minutes. So, shamelessly, I will send him to doggy daycare where he can be entertained and socialize with other dogs instead of rip our house, or what he hasn't yet ripped of our house, to pieces. A second round of training is on my to-do soon list when I have the time because I know my little baby needs some help.
"I wanna drive, Mom"
So, how did Buster come into my life? After I graduated from college in 2010, I begged my mother for a puppy. We had a family dog when I was younger and we had to give him away when I was in high school, after my father passed away, because we were unable to continue to care for him at that time. I always wanted to get another dog when the time was right. After I moved home and started working on my Masters degree, I felt that the time was better than ever for us to get a dog. Finally, after much begging and pleading on my part (I'll admit I was a little dramatic) we searched for the new member of our family. With my brother's allergies, a hypoallergenic dog was necessary. I really wanted a Yorkie but somehow my mom came across an ad online for a Morkie - a Maltese and Yorkie mix - and we contacted the person who was running the ad. We received pictures by email and fell in love with these cute little balls of fur. We had a male dog before so that is what we wanted to get this time around too. On Easter day in 2011, we went to "just look" at the male puppies from one litter. I knew going into it there was no "just looking" about it because we left that day saying "We want him" and thinking of possible names on the car ride home.
I choose this one!
I am so lucky and thankful to have my little Buster. He certainly knows how to brighten my day. He is super goofy and very intelligent. He knows a handful or more of tricks and learned how to roll over in 30 minutes. He has 2 dog beds, a large wardrobe of clothes, at least 30 toys (though not all are in use because many have holes that need to be repaired) and is loved by my entire family and his doggy daycare family. I am more than happy to spoil my dog child because he has brought so much happiness to my life.
Enjoy these last few pictures
$
This picture is enough proof that he is spoiled!
Snuggles with Mommy are the best, especially when you can just put your feet up
Happy and loved
Soul mate
I might be biased, but it doesn't get much cuter than that!