Welcome back for week 5 of Weekly TV Roundup!
Feel free to grab a button and sit down on our virtual couch! Tune in every

Tuesday

morning for the prior weeks' shows (

Tuesday

-Mo

nday

)
Wanna participate? Let's get started!
2. Link up using our button, or link back to us in your post
3. Check out other's posts and leave a comment. Who doesn't love comments?!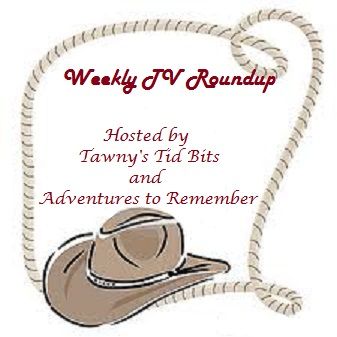 Awkward
Redefining Jenna - aired 6/11/13
I feel like this show JUST came back on, and now the season finale is airing. What the heck is up with that?! How is time flying by so quickly?! Okay, that's enough ranting about how fast time passes for now.
First off, I love that Ming is the new leader of the Asian mafia and I can't wait to see how that continues to play out next season. I see it working in Jenna's and Tamara's favor.
So, Jenna is all over Collin and I can't say that I blame her. He's more mature than Matty and about as equally attractive. (Don't worry, it's okay for me to say that, because even though they play high school students, the guy who plays Collin is two years older than me, and Beau Mirchoff [Matty] barely qualifies for being a year younger than me. I double-checked.) Back to what I was saying, Jenna has the hots for Collin and she ditches Matty to hang with him at a photography exhibit. She ends up staying there almost the entire night and ignoring Matty's texts. Finally she heads to the party her bffl is co-hosting and lets Matty know she's outside. In Collin's truck. Yep, something is about to go down between them. He already told her he broke up with his girlfriend and wanted to be with a girl like her. They get their make-out on and Matty shows up just as Collin is pulling away, with no Jenna in sight. She pops up behind him and says "hi" all innocent like. I had a strong feeling she was going to end up getting some action from Collin. I'm glad she did. I feel like it's time for her to move on from Matty and see what happens there. Team Matty. Team Jake. Team Matty. Team Collin. I can't wait for the next season to start!
Pretty Little Liars
A is for A-l-i-v-e - aired 6/11/13
This part is going to be really brief, but thank goodness for DVR again because I had to wait until Wednesday morning to catch up on my PLL addiction. A pig was in the trunk?! Seriously?! As soon as I saw that though, I had a strong feeling Wilden would turn up dead before the episode was over. So Mona spills a bunch of A-team secrets to the Liars, A sends creepy texts, the girls meet their mini-mes outside Mona's lair, the Liars attend Wilden's funeral, Hanna's mom's phone is found in his coffin, and Toby turns over the lair for information about his mother. So much to process. I'm ready to hear something more serious about Melissa since for the past few seasons it's always being hinted at that she's a bad person and she's on the A-team. I want to know what her deal is. I kinda feel like she killed Allison. Or CeCe. Or both of them. And Jenna. I feel like it was mean girls vs. mean girl, right. I mean, it had to be, didn't it? I'm also excited about this new detective in town and the angle he approached the Liars with, saying that he thought Wilden had been harassing them. I'm really looking forward to tomorrow night's episode, which again, I will be watching Wednesday. Grr. I need to stop making plans for Tuesday evenings. But I'm celebrating my bestie's birthday a week late so it's a good reason at least.
See you all next week!